随着选委会宣布砂拉越州选举投票日落在12月18日,经隆雪华青第十五届理事会讨论后,决定将2018年发起的Undirabu回家投票计划余款RM 17,983.75 加码至 RM 20,000,并提供100 份 RM 200 的机票津贴予欲回乡投票的砂拉越选民。
隆雪华青希望借此达到抛砖引玉的效果,鼓励游子回乡投票,并希望符合资格的公民尤其是年轻一代履行公民责任。
欲申请机票津贴的选民,必须符合以下条件:为砂拉越合格选民和仅限在籍大专生,请点击链接: https://bit.ly/undisarawak_klscahyouth ,申请者也需要提交身份证、学生证、银行户头资料和往返机票收据的证明。
本团对此项回乡投票机票津贴的决定(包括津贴名单)为最终决定,一切投诉将不受理。
先到先得,额满即止,隆雪华青将会公布100位获得机票津贴的名单。
于第十四全国大选前,隆雪华青联同华总青、隆雪华堂妇女组及11州华青发起的UndiRabu免费巴士回家投票计划,获得1,008位热心人士捐款,成功筹获RM 202,063.71,共惠及约1,300名来自东西马的选民通过免费巴士及津贴机票回乡投票。
任何疑问,欢迎电邮 [email protected] 询问。
The Election Commission (EC) has set December 18 2021 as Polling Day for the upcoming 12th Sarawak state election. KLSCAH Youth decided to increase the balance of the Undirabu Project initiated in 2018 from RM 17,983.75 to RM 20,000.00 to be used as "Air ticket subsidy for Sarawak Voters".
Each applicant will be subsidized with RM 200.00.
KLSCAH Youth urges Sarawakians in Pennisular to balik kampung to cast their votes and make an impact for our country. By grasping this opportunity, we hope to encourage eligible voters to exercise their citizen rights, especially the Sarawakian youths.
Those who are interested to apply for these subsidized flight tickets must meet the following conditions:
Eligible voters, and
College or undergraduate student only
To apply, please submit the following: a softcopy of your MyKad IC, student ID, bank details, and a proof of a return-trip flight booking to the following link, https://bit.ly/undisarawak_klscahyouth
KLSCAH Youth's decision on all matters relating to the "Air Ticket Subsidy for Sarawak Voters" (including the subsidy list) shall be final. Any complaints will not be entertained.
The subsidy is given out on first come, first served basis, subject to availability. The list of 100 applicants will be announced through our Facebook page (https://www.facebook.com/KlscahYouth).
During the 14th General Election (GE14), KLSCAH Youth, Youth Section of The Federation of Chinese Associations Malaysia, Women Section of Kuala Lumpur And Selangor Chinese Assembly Hall, and another 11 states of youth sections of Chinese Assembly Halls were jointly organized the Undirabu Free Transportation Project.
RM 202,063.71 was successfully raised throughout the project, consist of 1,008 donors. There was a total of 1,300 voters from East and West Malaysia benefited from the Undirabu project through free buses and subsidized air tickets.
For further inquiries, please contact [email protected].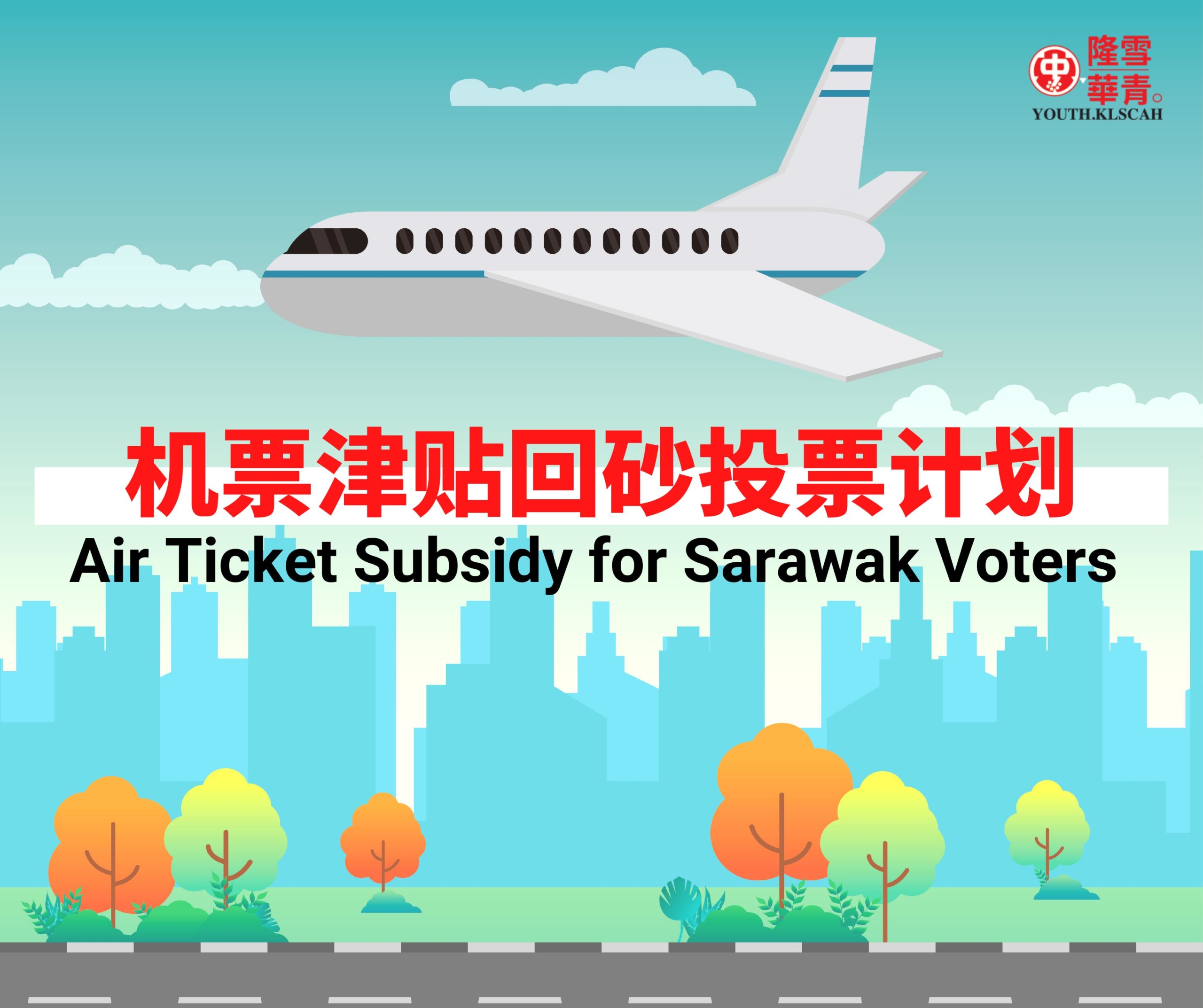 https://youth.klscah.org.my/wp-content/uploads/2021/12/011221-隆雪华青机票津贴回乡投票计划海报-scaled.jpg
2146
2560
Kar Chi Wong
http://youth.klscah.org.my/wp-content/uploads/2015/07/logo-322x109.png
Kar Chi Wong
2021-12-01 17:33:02
2022-02-17 10:52:55
隆雪华青"机票津贴回砂投票"计划 KLSCAH Youth: Air Ticket Subsidy for Sarawak Voters